Web Services
Client: Water Reporting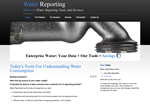 Situation
As a start-up, Water Reporting needed a web site quickly, to have a market presence in advance of expected competition. Could a site and its content be created in a month? How could the site appear robust with little text?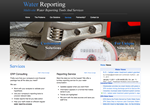 Solution
Steaming Kettle used the Joomla content management system to speed site development and ease future maintenance. We:
Chose a template with a central frame for graphics
Committed a higher fraction of budget and time to selecting powerful, thematically similar images
Employed a non-nonsense, bullet-by-bullet approach for the message
Result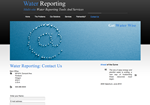 Water Reporting's site uses a small amount of vivid color to highlight key ideas. A few carefully chosen features make it more than a business card for both the customers and the company:
A news rotator offers clients a number of views on water resource issues
A form gathers key marketing data when potential customers download free information
A newsletter feature allows Water Reporting to manage its outreach a no additional cost
Client: Fulton Provision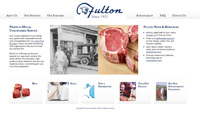 Situation
Fulton Provision, with cutting edge production practices but a traditional approach to marketing, waited until 2010 to create its first web site. How could they make the most of their investment?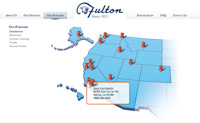 Solution
Steaming Kettle used a stakeholder focused approach to content discovery and site map development. Both graphics and text needed to be created and Steaming Kettle took on a leadership role in coordinating development. Adjustments were made in order to ensure Fulton's contributors could maintain their productivity in factory and financial operations.
Result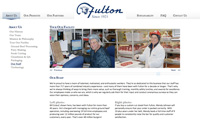 Fulton's site has a very clean, Web 2.0 appearance with advanced functions such as a facility tour and distributor locator.
Collaborators
Delaris, LLC: http://delaris.com/
Bruce Rodger Design: http://www.brucerodgersdesign.com/
The Scribe: http://thescribesite.com/
Best Practices for Web-Based Training Marketplace
Client: Northwest Food Processors Association
Situation
The Northwest Food Processors Association (NWFPA) and the State of Washington saw a need to make industry training resources more accessible. Could the World Wide Web help bring together users and purveyors of training? How would web-based training marketplace function? What resources would need to be dedicated to the project?
Solution
Steaming Kettle turned the high-level vision into and action plan and performed in-depth research on web-based training marketplaces. After identifying viable models both inside and outside the food processing industry, Steaming Kettle evaluated training marketplace web sites and conducted in-depth interviews with their technical and marketing staffs. Human and technical costs were estimated, and various models for recouping operating costs were explored. Strengths, weaknesses and opportunities of several scenarios were investigated.
 
Result

Steaming Kettle helped build the foundation for a world-class collaboration between food processors, education providers and governments. Delivering both a written and oral report to the Washington State Food Processors Skill Panel, Steaming Kettle made ten concrete recommendations for best practices for the web site design, its underlying technology, and its business operations. Steaming Kettle also highlighted eight benefits and eight risks in proceeding with the collaboration.
Client: Portland Public Market
Situation
The Historic Portland Public Market Foundation had its web site designed and launched, but wasn't receiving the depth and responsiveness of support it needed.
Solution
Steaming Kettle resolved immediate challenges (such as out-of-date front page, broken links, and e-mail performance) in less than a week. In a month, Steaming Kettle relocated the site, saving the Market 50% on its hosting cost. In cooperation with staff, Steaming Kettle identified and prioritized a fixed-budget maintenance list, which staff prioritizes regularly.
Result
The Historic Portland Public Market Foundation site has new and revitalized capability:
A new, secure credit card donation process
50% lower hosting cost
Updated news items
New sections for letters of support and fundraising
Regular maintenance with fixed costs